Catalog System...
The Catalog Design is based on two levels, Group and Category. Each item is assigned to a Catalog. Each item is also assigned a Vendor that plays an important role of this design. So one could say it's actually a three level catalog system. This catalog design was one of the first phases of development of this product over twenty five years ago. It worked then and it still works today with very few changes.
The basic concept is to setup custom Groups - Moulding, Glass, Mats, Foam Board, Supplies etc... etc...
Then setup Sub-Catalogs under each Group - Wood, Metal etc... etc...
The idea is to be able to control global pricing, discounting and reporting using this catalog system at any level through out ProFrame 2015. Years ago in its conception, the thought of a online website order system was not a factor, but in recent years it has become an important competitive edge. The amazing thing about our catalog design is; not only will it control global pricing and discounting as designed, it works perfectly to control and maintain a website catalog order system.

Sample Shot from Inventory File Maintenance - Assigning Items to a Catalog...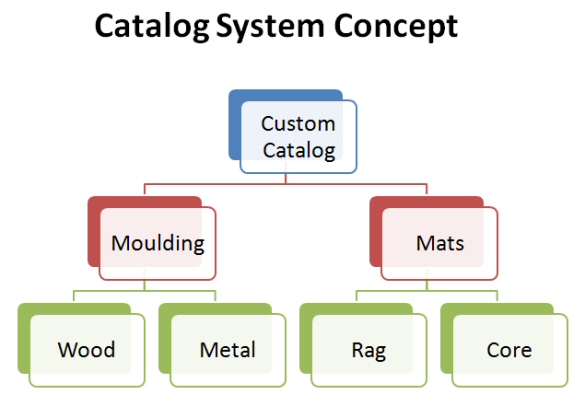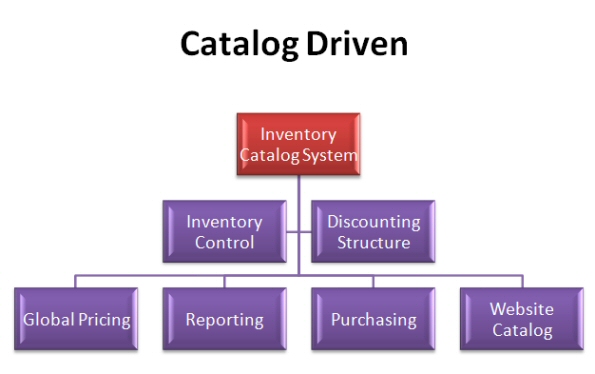 Website Online Catalog Order System (optional)
We can develop and deploy a website online order system that is database driven by the ProFrame Inventory Catalog System. By using the same catalog structure of ProFrame based on three levels, Vendor, Group and Category to drive the website, makes it very easy to maintain and control. The website is a registration password protected site, the catalog main page is the ProFrame catalog Groups. The next page is Vendors and the 3rd is Items. Depending on the group, this last page will have filter options like color, category, sizes etc.. From here items can be added to the shopping cart process. It can handle thumbnail images and larger images for the detail item page. It has an online Administration Utility that allows the processing of orders and maintenance of user accounts. It includes a custom program that runs in ProFrame to build the website catalog file, that file is then converted to an MS Access Database to then be up-loaded to your website. This process can be automated so you can totally manage your own site. This includes the wording and descriptions of Catalog Links. Click here for screen shots...