Wholesale Frame and Moulding Software Solutions
Industry - Designed For
This software product is designed for the wholesale frame and moulding industry. Wholesalers and distributors of picture frames, wood and metal moulding, chop frames, join frames, mat boards, glass, foam board, art and framer supplies and equipment. It's a wholesale work order, sales order, accounts receivable system and full inventory control with purchase orders, payables and general ledger. This software solution is designed for single and multi-user platforms running Windows based operating systems. It improves productivity and streamlines the entire process, from order entry to delivery. This product offers many features including an optional online website catalog order system and works with virtual machine technology and cloud based SQL Servers for networks across multiple warehouses.
Platform - Desktop Application
This wholesale frame and moulding software product is a Microsoft Windows compatible Desktop application that is totally installed on your local network or hard drive and system. It is NOT a web-based application that requires a web browser to run on an outside server or cloud, but it can run with a SQL Server cloud based server for multi-warehouses. It is helpful to have an internet connection for the support page to run while working in the ProFrame 2015 program.
Database - SQL Server Database Platform
This product is developed using Visual Studio with Visual Basic as the core language and SQL Server 2008 or 2012 as the database platform. This new version is a complete rewrite based on over 25 years of programming experience in the wholesale frame and moulding supplies industry; its basic design is still intact with all the basic features plus much more. learn more about SQL Server 2008...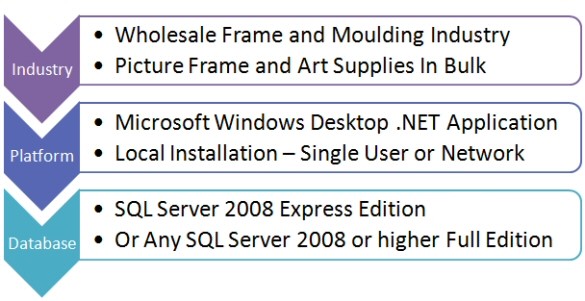 Experience
With more than twenty five years of experience in design, development and deployment of software solutions for the wholesale frame and moulding industry, we believe our products cover the basic and essential needs for any large or small wholesaler, distributor or supplier of frame and moulding products. Celebrating 25 years from the time ProFrame was an MS-DOS base platform back in 1989.
Features and Compatibility
Our wholesale frame and moulding and art supplies software product is compatible with the latest Windows operating systems; Windows 7, 8 and Windows 10. Any of the latest Windows Server editions. Click here for the full features and compatibility list...

Click here for Demonstration Videos...
Our History
Back in 1989 we developed our 1st version of ProFrame, it was a DOS based platform. Later in 1998 we developed a Windows version that was released in 1999, that version was our 2nd generation and was our flagship product for more than 14 years. During that time as our client base increased, we added many new enhancements and features based on our experience and request from our clients.
The last update for that version was v3.07a, 04/01/2011. We stopped releasing updates and upgrades as a whole for that version and we no longer make it available as of 11/01/2013, although we still support it and do make customized changes for current users as requested.
On January 1st, 2014 we released ProFrame 2015 and lunched this new website. This latest version is our 3rd generation wholesale frame and moulding software solutions for this industry. This software product is built on more than 25 years of experience with solid rock features and designs from previous versions. It's our best one yet!
---
Our Previous Version is no longer available...

ProFrame I, is our previous version (2nd generation) software product for the wholesale frame and moulding industry. Its no longer available, click here for support and more information...
We encourage our current users of ProFrame I to upgrade to our new version ASAP. We can transfer your data into this new version at any time.
---
ProUserNames - is another EasyBee Software Windows Desktop Application to help you manage and track your Usernames and Passwords, click here for more info...
---
04/27/2018
---